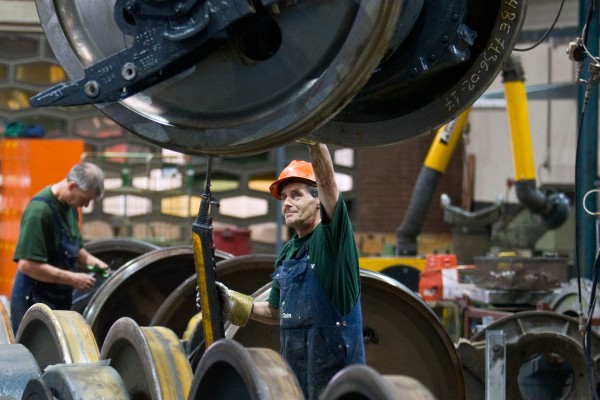 Research based on oil and grease analyses for monitoring the condition of your lubricated systems.
Oil analysis in our laboratory
Obtain insight into the condition of your assets and lubricated systems.
The DEKRA experts inspect and analyze your oil based on their years of tribology expertise and technical knowledge. This enables you to keep control of the availability, technical lifespan and life cycle costs (LCC) of your assets.
Tribology is the science and engineering related to the behavior of two surfaces moving past each other (also known as 'friction science'). An important aspect within tribology is the control of friction and wear, for example by the use of a lubricant. Friction and wear in systems influences the functioning of your assets and materials.
Oil analysis: what are your benefits?
DEKRA is an independent and reliable partner. With our knowledge and research methods, we provide a solid foundation for:
Our independent and professional oil analysis laboratory
In addition to the standard test methods, DEKRA also uses self-developed test methods. These have been perfected over decades, based on thousands of analyzed samples. We examine your lubricated systems and also determine the quantity, composition and size of the wear parts. This enables us to report on:
the residual life of the lubricant;

which parts are wearing out; and

the degree and severity of the wear.
In addition, we can advise you in the choice of lubricant to ensure that it is suitable for your application. If necessary, we use our own test methods to simulate the specific usage conditions.
Are you looking for a custom solution? Our tribology experts are happy to offer you solutions for your specific problems.
What do our customers say?
"In my experience, the services provided by the Tribology department are very good and often excellent. I very much enjoy working with this department. The Tribology department not only performs analyses, but also provides very specific advice. It is of added value for me that DEKRA knows the NS rolling stock very well. The lines of communication are short and we regularly consult with the NS rolling stock teams, so we work together to keep the condition monitoring on track.
In recent years, NS and DEKRA have collaborated very intensively in order to maximize the operational reliability of the NS rolling stock. We often work together with the experts from DEKRA in terms of component research on gearboxes, as well as for maintenance research on wheel axle bearings and traction motors."
- Bert Beentjes, System Engineer at NS Techniek
"Van Meeuwen Lubrication has been doing business with DEKRA's Tribology department for more than 25 years and we are very satisfied. The high degree of expertise of DEKRA's experts in the specific field as well as their proactive input and problem-solving ability are central to our collaboration."
- Taco Mets, Technical Director at Van Meeuwen Lubrication
Insight into the performance of your assets by our oil analysis laboratory
We are happy to provide you with more insight into how the performance of your assets is affected by friction, lubrication and wear. We do this based on our extensive experience in the field of tribology and materials science research methods.
Where is our research applied?
Rolling stock:

train, tram, metro, bus, truck

Industrial applications:

machinery and production lines, steel industry, machine building, food and packaging industry, cranes, shipping, on-/offshore installations

Infrastructural works:

flood defenses, movable bridges, locks

Energy supplies:

wind energy, medium and high-voltage installations
What systems benefit from an oil analysis?
Gears

Transmissions

Chains

Bearings

Compressors

Electric and internal combustion engines

Hydraulics

Transformers/insulation oils
How do you get a free oil analysis?
Simply send your oil sample to our oil analysis laboratory in Utrecht. Our tribology experts are happy to help you!
Start your free* oil analysis in 7 seps
Fill in the application form to receive free analysis of an oil sample in 7 steps!
Step 1:

Receive our bottle by post.

Step 2:

Fill the bottle with your oil.

Step 3:

Complete all the information on the sticker provided and attach it to the bottle.

Step 4:

Put the bottle of oil in the resealable plastic bag.

Step 5:

Use the return label to send us the bottle free of charge.

Step 6:

You will receive our analysis report by email within 2 weeks.

Step 7:

We will then contact you personally to discuss the results.
*Please note:
This offer only applies to companies, we do not accept requests from individuals and your our organization cannot receive the free oil analysis more than once. Do you use the return label for other purposes? Then we are permitted to charge you for these shipping costs.
Please feel free to contact us
More about tribology at DEKRA