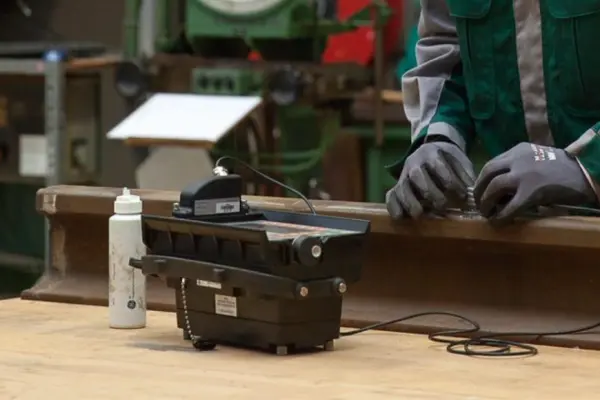 Which tests do we perform and why are they important?
Testing industrial products
Insight into materials, components and systems
Each year, DEKRA carries out more than one hundred tests to help our clients. We test materials, components and systems that are used on or near the railway, as well as other dynamic technical systems. We carry out tests on-site and at our own well-equipped laboratory in Utrecht. We always do this under realistic conditions. In this way, our experts can assess whether the assets are safe and meet the relevant standards and regulations.
The independent experts of DEKRA select the most suitable test for the particular issue faced by the customer. We carry out both standard and customised tests that are geared towards your particular case, to determine whether a component or (sub)system meets the relevant standards. This flexibility ensures that we can also carry out highly complex assignments.
DEKRA carries out tests for both national and regional public transport companies. We also work for contractors outside the rail sector, such as airports, harbours or infrastructures. Our test results support you with:
standardisation and authorisation

assessing whether a component meets the applicable standards

collecting input for further research (for example system optimisation)

ascertaining cause of product failure

comparing products
Tests for asset lifecycle management
The quality of your products, materials, components and systems are an important part of your asset lifecycle management. Test results help you to make the right choices from the start to the end of the lifecycle. Simulations allow you to collect important data before you actually buy a system. And after the purchase, our authorisation tests help your systems onto the market by providing them with the necessary certificates. Field tests show how a system behaves in the actual environment where they are used. And remaining life determination provides you with valuable insights at the end of the planned lifecycle. The results show you which systems and their components can be recycled, thereby starting the cycle once more.
Schedule a 1:1 session
Do you want to find out if your assets are safe and meet relevant standards and regulations? Get in touch with one of our experts. The process is simple:
1.
Request a free 1:1 session with one of our experts using the form below.
2.
Submit your unique case.
3.
Get valuable insights and advice on concrete follow-up steps.
Do you have a question? Get in touch with one of our experts
DEKRA Rail
Concordiastraat 67
3551 EM Utrecht