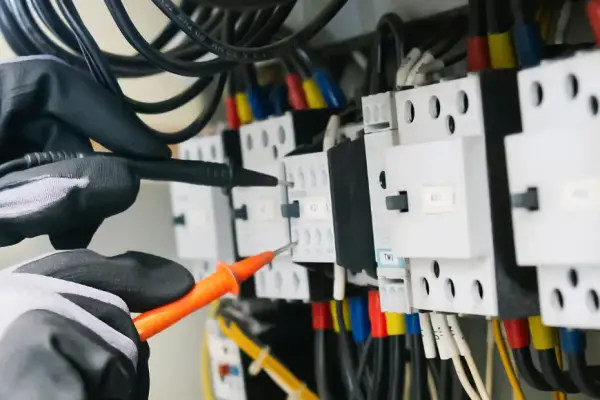 Increase the reliability and safety of your electrical distribution networks?
Low voltage testing of industrial power and control systems
For safe and secure energy distribution
Are you a manufacturer of distribution enclosures or switchgear? An assembler of low-voltage (LV) distribution equipment? Or a regulator or a wholesale energy consumer? Then you need a partner to help ensure the reliability and safety of electricity distribution and control systems. DEKRA's low-voltage specialists are at your disposal to provide the service you need.
DEKRA has in-house experts specialising in low-voltage switchgear and controlgear. We help you evaluate the safety and reliability in your product's electricity transmission and energy distribution network. DEKRA helps you as an original equipment manufacturer (OEM) or a manufacturer of the switchgear assembly to demonstrate that your product complies with national and international standards, safety regulations and the EU Low-Voltage Directive (LVD). Our type test certificates and certificates will ensure smooth market access worldwide.
Cybersecurity of IACS
Cybersecurity is a key focus area at DEKRA, since electrical systems have become increasingly smart and (cloud) connected. For instance, smart distribution grids and industrial automation and control systems (IACS) within your organization. Exchanging data via cloud systems certainly offers many benefits to users. Yet security remains a crucially important aspect. You need to be confident that devices and systems are able to withstand penetration attempts. It is therefore vital to identify and mitigate potential risks.
DEKRA provides insight into these cybersecurity risks. We not only test software and hardware for cybersecurity, but also organizations themselves. For components, systems and organisations that are part of a "critical infrastructure" (NIS2), we offer all testing and certification according to IEC62443, ISO 27001, IEC 15408 and other standards. Our Gap Analysis shows the scope for improvement against the standard or desired position.
We can test and certify every component in your product. Our work is based on international and European standards such as:
Low voltage directive (LVD)

IEC 61439 series for assemblies, distribution boards and busbar trunking systems

IEC 60947 series for switchgear and components

IEC 60898 for individual components

IEC 62208 for empty enclosures

IEC 62955 for EV charging systems

IEC/TR 61641 for internal arc testing

IEC/TS 63107 for arc mitigation testing

IEC 60898-1, IEC 61008-1, IEC 61009-1 and IEC 62423 for components offering (residual) protection
(Including EN and country specific requirements)
Why LV testing by DEKRA?
universally recognised certification




DEKRA's test certificates, reports and quality seals are universally recognised and accepted worldwide by grid operators, utility companies, end users, authorities and other stakeholders.

comprehensive knowledge of standards




Our experts have a comprehensive knowledge of low-voltage standards, thanks in no small part to their active participation in consortia and standardisation bodies.

flexible testing solutions




We offer testing options at our laboratories in Dubai, Hungary, Asia and the Netherlands. Or under our supervision at your own or a third-party laboratory.
Request a free session with our expert
Want to improve the reliability and safety of your electrical distribution networks? If so, we are happy to be of assistance! Just request a free online session with one of our experts. During this session, you will have the time to discuss your business case and ask all your questions to our expert. Simply fill out the form below and we will contact you to set up a meeting as soon as possible.