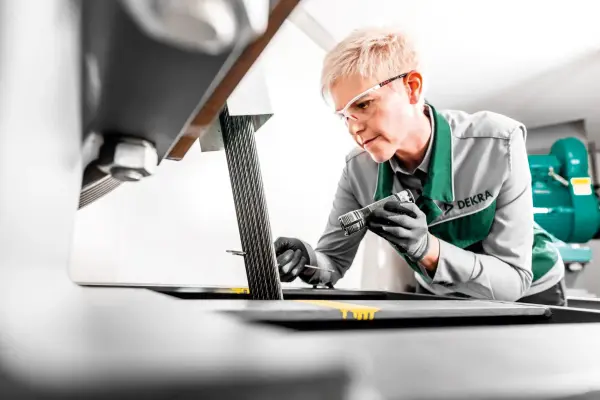 How do you guarantee the safety and reliability of your products?
Product Safety
Discover the benefits and possibilities of product safety testing
DEKRA is a world leader in safety testing of consumer, industrial, automotive, ICT products, medical devices and products used in explosive atmospheres. Our product safety testing experts have decades of experience of testing and certifying products for worldwide markets.
Across our global network of test laboratories, DEKRA's trusted product safety testing specialists perform comprehensive product testing that covers both normal and extreme operating conditions. We offer a wide range of thorough and trusted testing methods that ensures our customers' products are tested against all the necessary legislation, international and industry standards, in addition to offering innovative solutions tailored to our customers' exact specifications.
As the complexity of products increases, the concept of safety needs to evolve
New technologies call for new directives and risk assessments in addition to compliance with existing standards. In this context, both manufacturers and retailers are liable, and reputations and safety are at stake. For manufacturers, it is essential to single out potential consumer and operator hazards in the early stages of the development process. For importers and retailers, it is important to have access to testing documentation and certificates. This increases their confidence while minimizing the risk of costly recalls.
In view of the large number of applicable standards and local regulations, you require expert knowledge to help you navigate through pitfalls and avoid unnecessary overlaps. At DEKRA, our experts will support you by testing against the right standards, not only under normal operating conditions, but also under extreme ones.
Our global network of test laboratories and trusted DEKRA experts as well as our extensive scope offer you innovative solutions tailored to your own specifications. This helps you make the most of your time and budget to successfully bring your products to market.
Innovative produst safety testing solutions tailored to your own specifications