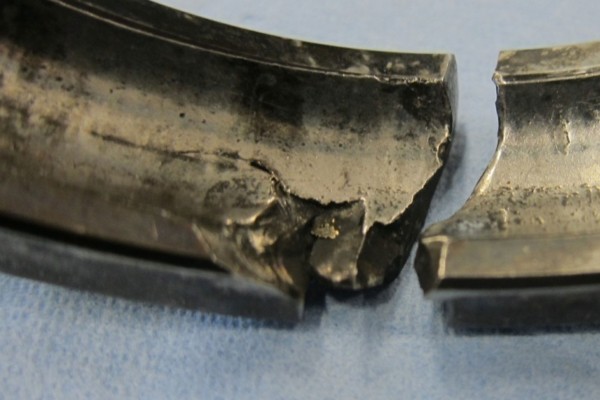 How do you avoid damage or failure in the future?
Failure and damage investigation
Gain insight into the cause of failure and damage
Damage to a component can have major consequences for the correct and safe functioning of a system. So, it's important to establish the cause whenever this happens. The knowledge you gain will enable you to avoid the same situation in the future and also improve your asset lifecycle management: saving you time, money and resources. A tailor-made DEKRA failure and damage investigation identifies how and why a system or component failed.
With failure and damage investigations we find out the cause of failure and damage. However, we also use the research to find out the current condition and behavior of a component. This way we prevent damage from getting worse. Our specialists
inspect
the functions of the component, the environment in which it operates and the extent and type of damage.
DEKRA's failure and damage investigation will give you answers to a number of important questions:
Does the component exhibit degradation or behavior appropriate to the application?

What is the most likely cause of failure?

Is there a risk that other components could fail as well?

What can we do to avoid or delay the same failure in the future?
The benefits of a failure and damage investigation
You stand to gain a number of benefits from a failure and damage investigation. It helps you to:
save time and resources by avoiding the same situation in the future;

avoid the unexpected, major costs involved when replacing other equipment that could fail in the same way;

improve you company's work processes;

improve the safety of the work environment in the vicinity of a component or system.
Working together to achieve a tailor-made investigation
We always precisely tailor a failure and damage investigation to a client's specific situation. To be able to find out exactly why a particular component has failed, we will start by scheduling a meeting with you. Here we discuss what you want to gain from our failure and damage investigation. Our specialists will then start to prepare an investigation plan in which the specifics of the investigation reflect your particular situation. We will determine the cause of failure and/or damage via a number of means. This includes on-site inspections at your premises as well as research in our laboratory.
We carry out all inspections with safety in mind. We do everything we can to keep any disruption to existing processes to a minimum - to enable your employees to carry on with their work. Our experts have the flexibility necessary to tailor an inspection to your situation. They then use their findings to prepare a results report. If requested, they diagnose the possible cause of the failure in question. The report can also include information about earlier use of the asset and whether this might be a reason for the system or component to fail. For example, if an air gap had been opened when the pressure was still too high, which caused the gears to crack. Or if the overloading of the track resulted in rail damage.
What DEKRA has to offer you
experts in asset lifecycle management

a flexible approach

an extensive knowledge of materials and applications

a fast turnaround time

a client-oriented approach

inspection expertise

a broad-based approach and independent perspective: honest and objective advice

an emphasis on quality

different investigation levels

a wide range of investigation methods, including non-destructive testing, digital microscopy and replica technique

a field lab and extensive DEKRA lab

a visual and transparent report containing a clear answer to the original question
Schedule a 1:1 session
Would you like to know why a component failed or got damaged? Get in touch with one of our experts. The process is simple:
1.
Request a free 1:1 session with one of our experts using the form below.
2.
Submit your unique case.
3.
Get valuable insights and advice on concrete follow-up steps.