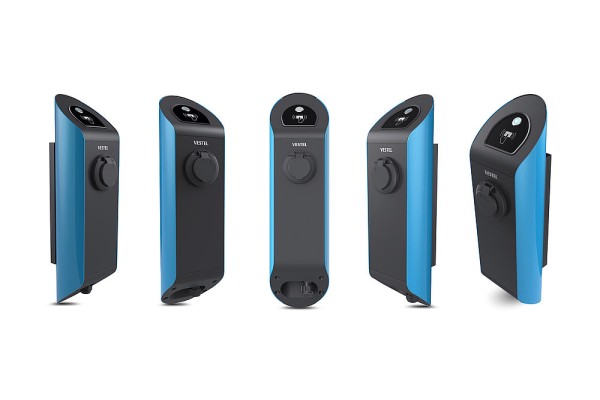 Vestel EV charger wins reddot product design award 2017
In the category 'Vehicles and vehicle accessories', Vestel's EV charger won the reddot product design award in 2017. A jury of more than 40 people, amongst which were designers, professors, and other experts judged the product on its quality, functionality, ergonomics, material handling, ease of use, ecology and robustness. From over 5,500 products, the EV charger was selected the 2017 winner.
Vestel Electronics
Bringing an EV charger to the global market
When Vestel Electronics, a worldwide operating electronics player from Turkey, wanted to bring their new electric vehicle (EV) charger to the market, they looked to DEKRA, a reliable and long-standing partner and reputable player in the automotive and EV market. Read our interview with Murat Sarpel, General Manager at Vestel Electronics and Andaç Pamuk, LVD Manager at Vestel.
The EV market around the world is growing rapidly. Targeting this promising scenario is Vestel, one of the most important manufacturers for consumer electronics. The company has developed new capabilities to introduce exciting automotive solutions to its product portfolio. In addition, Vestel has planned to make long-term investments in the automotive sector valued at 1.1 billion US dollars to, amongst others, produce electric car engines and electric engine control mechanisms.
Some hurdles are still in the way of a complete breakthrough of electric vehicles. For example, the industry faces the challenge of creating an energy infrastructure that can handle large volumes of EVs with accompanying power surges and declines. In addition, some car batteries still have a limited range. Finally, there is no standard in the design of most of the existing chargers, charging times can be a hassle, and the optimal location for chargers has still not been figured out completely yet.
Our experience, especially for power electronics design, is providing a significant advantage to start the design and manufacturing of new products. We are always seeking new promising areas to get engaged in. In the past couple of years, for example, we have invested in expanding our product portfolio for automotive solutions. Vestel wants to be an important player in this rapidly developing market. We are researching the possibility to develop an entire electric vehicle in the near future.
Murat Sarpel, General Manager Vestel Electronics
Vestel's Electric Vehicle Charger
In the past two years, Vestel has developed an EV charger to meet the market's needs. Specifically designed to address the current challenges in the EV market, the charger can be mounted in four different versions: the 'Totem' version as a single charging pillar and as a two or threefold charger with a smaller stand. The charger units have outputs ranging from 11kW to 22kW AC power, charging an electric vehicle in roughly 1 to 2.5 hours and can be used for residential and public areas. A team of six fulltime engineers worked on designing the EV charger and six additional engineers were involved in the testing of the product.
Overcoming challenges
As new products are developed, it is important to understand which standards apply and which requirements need to be taken into account. From the early phases of development and product design to when the product goes to market, adhering to the standards will help in getting products ready to be, for example, exported to Europe, in the case of Vestel. First time right is an important aspect in cutting costs while increasing competitiveness and time to market. Sarpel: "Since the EV charger is a very new product for Vestel, the important challenge in the beginning was to understand the standards and apply the requirements to, for example, the design of the product. We needed a party with a high level of experience to support us in this."
Get to know Vestel's EV charger
EV Charger for Residential and Public Areas
3.5 kW / 7.4 kW / 11 kW / 22 kW (3-phase) AC charging options
Type 2 IEC Standard compliant
Full connectivity support via Ethernet and Wi-Fi or GSM
Smart charging application on mobile
OCCP Support
Idle mode consumption: 3.5W
Weight: 10.7kg
Protection degree: IP54, IK10
Development time: 2 years
Our EV charger is first targeted to be sold in the Turkish domestic market. The second step, which will shortly be realized, is going to the European market.
To do so, Vestel looked to DEKRA, whom they have worked with for well over 10 years for the testing and certification of many other products, amongst which are televisions, smart phones, refrigerators, air conditioners, and luminaires. Andaç Pamuk, LVD Manager at Vestel: "Our positive experience with DEKRA is the main reason we decided to ask them to do the testing and certification of our first EV charger. We looked for a party who could inform our personnel about the applicable standards and deliver high technical knowledge." Tim van den Berg, account manager at DEKRA explains: "DEKRA's automotive heritage and extensive service portfolio in the automotive and EV market were a perfect fit for this exciting project."
DEKRA and Vestel
DEKRA looks at products from every angle, incorporating safety, but also performance, reliability, quality, interoperability, functional safety, energy efficiency, and more. In doing so, the way safety is evaluated is brought to a more comprehensive approach. Pamuk adds: "DEKRA's experts have done a wonderful job in explaining which standards and directives were applicable. They have avoided overlaps and given us the necessary guidance in an objective way".
Currently, the new Radio Equipment (RED) and Electro Magnetic Compatibility (EMC) Directives are generating confusion in the market. In the past, the Radio & Telecommunications Terminal Equipment (R&TTE) directive from 1995 set the essential requirements for use of the Radio Frequency (RF) spectrum, EMC, and safety. But with the advent of the Internet of Things, more stringent and comprehensive regulations were needed. The RED replaced the R&TTE and applies to all products that incorporate wireless technologies as well.
Van den Berg: "DEKRA used a holistic, 360 degrees perspective in testing Vestel's EV charger. That resulted in the safety testing being performed in Turkey, witnessed by DEKRA, EMC testing being done in the DEKRA lab in the Netherlands, and the RF testing being performed in our Spanish labs". Pamuk concludes: "We needed a well coordinated and reliable party to do these things and DEKRA did just that. DEKRA's continuously constructive approach, especially when difficulties during the design and testing processes arose, helped us overcome all our challenges."
About Vestel
Founded in 1984, Vestel Group is comprised of 29 companies. Currently, it is one of the most important manufacturing companies for consumer electronics, household appliances, multimedia communication, LED lighting, and defense industries. With extensive R&D know-how and a focus on high added-value innovative projects, Vestel is a member of consortia for several international cooperation projects, such as the Horizon 2020, the Seventh Framework Program (FP7), and EUREKA clusters. Vestel Electronics, subsidiary of Vestel Group, is an electronics company with strong design experience in its R&D organization.