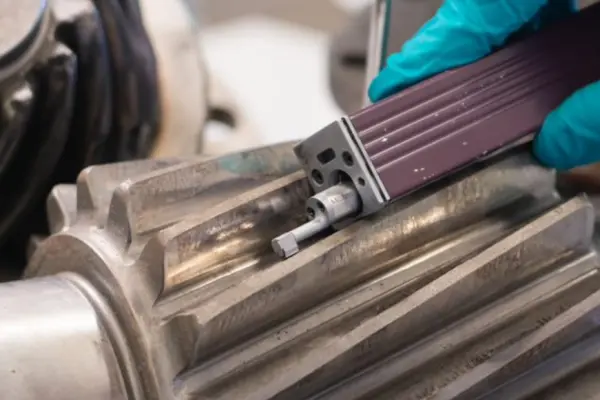 Valuable analysis for your lubricated systems
Tribological inspections
Machine inspection of lubricated parts
Are you looking for insights into the condition of your lubricated systems? Do you want to set revision periods for machines? Or better plan your relubrication intervals for grease-lubricated systems? A tribological inspection will give you the insight you need. DEKRA experts assess the construction of the lubricated system in a machine. And we analyze the oil or fat used. And we establish a benchmark for monitoring.
Tribology is the scientific study of friction, lubrication and wear. Friction is the force that resists the sliding of one surface over another. This force causes wear. Mitigating friction and wear through the application of lubricants is therefore an essential aspect of tribology because friction and wear in systems have an impact on the operation and economic life of your assets and materials. We perform tribological inspections, for instance, in bearing systems, gearboxes, transmission systems, electromotors and compressors. The
inspections
and know-how of our experts and our tribology laboratory can provide invaluable input for your asset lifecycle management (ALM) process.
Machine inspection to monitor conditions
Condition monitoring is used to monitor a system's state through a combination of measurements, inspections and sampling. A tribological inspection starts with us taking a sample of oil or grease from your machines or components. The tribology experts then send this sample to DEKRA's lab for comprehensive analysis.
In many cases, we will not have to remove components from the system to perform these condition inspections. Taking an oil or grease sample will usually suffice. This has the benefit of reducing your system downtime to a minimum. In fact, you will often be able to take the samples yourself by following our instructions. Samples can be taken during a brief maintenance interval or during operation.
We store the results of a tribological inspection in our databases. Based on our expertise and the available system information, we establish the permitted tolerances and issue an alert when these are exceeded. The results allow us to determine the condition of your asset and when maintenance or an overhaul is needed.
Analyses and testing for tribological inspections
Our tribological inspections are backed by our many years of experience and proven technologies. We use standardised and proprietary technologies to test and analyse oil and grease samples. We offer the following tribological analysis and testing options:
Viscosity (dynamic/kinematic)

XRF element analysis

FTIR infrared spectrometry

GC gas chromatography

Fuel dilution in engine oil

Determination of water content

Determination of acid value

RULER: Remaining Useful Life Evaluation Routine

Wear assessment (particle categorisation)

Measurement of ISO 4406 cleanliness

Determination of consistency

Dropping point testing

Breakdown voltage testing

Surface tension measurement

Dissolved gas analysis (DGA)

Spot testing (engine oil dispersion performance)
DEKRA's approach
One of DEKRA's experts will contact you to plan a site visit to take measurements and perform tests for a tribological inspection. We will, of course, coordinate our activities in consultation with your own personnel. During the inspection, we will appraise the systems' condition and degree of wear. Our expert will issue his or her opinion on the component based on the data obtained. Is it still safe to use? What is the remaining economic life?
The benefits of DEKRA
We are experts in asset lifecycle management (ALM), with a focus on lubricated systems. When you invite DEKRA to perform a machine inspection, you will benefit from the combined variety of disciplines represented across DEKRA's departments, offering you a comprehensive selection of testing possibilities. Our experts often have over 10 years of experience and are happy to share this with you. But we also have our own laboratory, which helps improve the speed and efficiency of our inspections.
Schedule a 1:1 session
Would you like to extend the economic life of your lubricated assets? Or gain insight into the condition of your components? Get in touch with one of our experts. The process is simple:
1.
Request a free 1:1 session with one of our experts using the form below.
2.
Submit your unique case.
3.
Get valuable insights and advice on concrete follow-up steps.