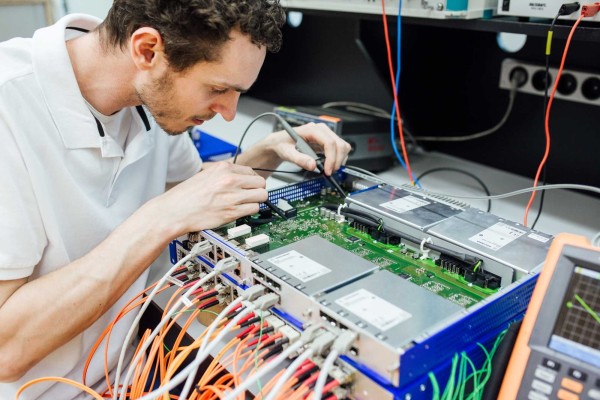 Join us as a test engineer, developing innovative solutions for a safe and sustainable future
We are looking for test engineers
Do you enjoy the challenge of testing the latest products and would you like to work for a company that aims to make the world a safer and more sustainable place? Are you interested in joining a team of independent experts working in a dynamic, international environment? If so, you will fit right in at DEKRA! We are constantly on the lookout for test engineers to strengthen our team in Arnhem.
As a test engineer, you will be testing the very latest innovations daily against relevant standards such as CE marking, ENEC, Cenelec, IEC and KEMA-KEUR. No two days are the same, as we work for a diverse range of customers and products. They include batteries and lithium batteries, LED headlights, charging stations and household appliances, but also communication technology, wireless technology and electromagnetic compatibility (EMC) related to high-tech developments around the Internet of Things.
As a test engineer, I work on projects for a wide range of customers every day. I test products in the lab and also compile reports, so there is plenty of variety.
Vishnudas Purushothaman – Test engineer
A good start guaranteed
Will you start your new adventure at our office in Arnhem? Then we will ensure that you get off to a good start here by assisting you with the following:
You will receive funding for your move to the Netherlands.

For the first two moths we accomodate housing in the form of a B&B or studio in Arnhem, or surroundings.

We help you with the paperwork for registering with a municipality, health insurance, general practitioner and dentist as well as opening a bank account.
When you start your DEKRA career we will make sure to assist you every step on the way!
Your team: Product Testing
As a test engineer, you will be working for the Product Testing business unit. Here, together with a group of international colleagues, you will test and certify consumer and industrial products, components, systems, medical devices and products intended for use in hazardous areas. By providing the correct certification in accordance with internationally accepted standards, you will be helping manufacturers to gain access to virtually all markets in the world. Much of the testing takes place in Arnhem, in our 4,000-square-meter testing facility.
Working at DEKRA, a triple-A employer
At DEKRA, we offer our employees lots of scope for Ambition, Autonomy and Appealing work. But that's not all that makes us a Triple-A employer; we also offer an attractive salary and excellent fringe benefits such as 25 standard days of annual leave plus 13 extra days a year (called 'ADV').
Your personal growth is just as important to us as the growth of our company
At DEKRA you will be given plenty of opportunity to develop yourself and realize your ambitions. Our test engineers all complete an internal qualification process, and we provide education and training to keep you up to date on relevant standards. If you are ambitious and know what you want, we will help you to map out your career path.
Our business
For almost 100 years, DEKRA has been working to make the world a safer place. We are one of the world's largest expert organizations in the field of testing, inspection and certification. Our independent experts are committed to safety at work, at home and on the road. We have a clear ambition: by 2025, DEKRA will be the leading global partner for a safe and sustainable world.
With over 1,000 employees in the Netherlands, we test and certify consumer, industrial, automotive and ICT products, as well as medical devices and products intended for use in hazardous areas. We provide these services for markets all over the world.
If you have any questions, please contact our recruiter