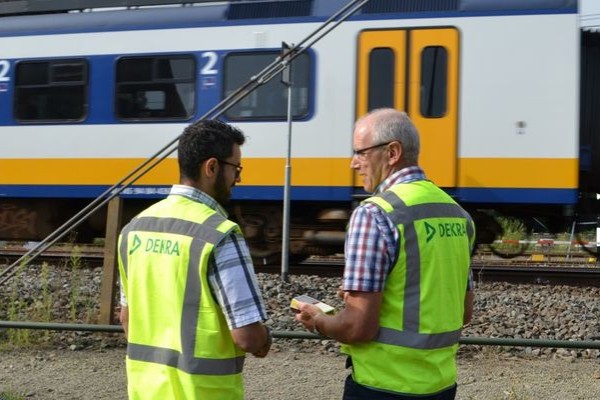 Need experts to perform field tests at your location?
Field testing
Testing assets in your own surroundings
Do your vehicles, systems or components still meet the relevant requirements? Are they still safe? And how do they behave in practice? Testing can be difficult if you cannot transport a vehicle, system or component to a specific test location. For example, rail infrastructure and systems for baggage handling. DEKRA provides field testing for these types of situations, where our experts carry out field tests at your location.
Our
tests
provide you with valuable input for your Asset Lifecycle Management. Through field testing, you receive information about the behaviour of your assets at your own location and/or in daily use. Using our mobile field lab, DEKRA can carry out tests and measurements under various conditions. When doing so, we always take into consideration your specific wishes and needs. And on the basis of analyses, you are given specific insight into the condition of your vehicle, (sub)system or component. DEKRA provides a wide range of customised field testing. See below which customised field tests DEKRA all offers.
DEKRA's veldtesten op maat
adhesion measurement

roughness measurement

track profile measurement

noise measurement

flow measurement

braking force measurement

comfort measurement  

aerodynamics measurement
systems communication measurement

vibration measurement

wheel profile measurement

force and stress measurement (on components)

temperature measurement

travel measurements

electrical voltage measurement

deflection tests of ES welding
Cannot find the test you're looking for?
If you cannot find the field test you are looking for, please feel free to
contact
us. We will be happy to discuss the possibilities for a tailor-made field test that can answer your questions.
Advantages of field testing
Field testing provides you with various advantages:
You can test the device in the area it is used. 

You test how the device behaves in practice. 

You get a customized test, specific for your situation. 
Customized field testing
No single field test is the same. That is why we first coordinate with you what you wish to know more about. We discuss which tests and/or measurements best answer your questions. Using smart sensors and practical tests, our expert then collects the relevant data. This provides insight into the status of the vehicle, (sub)system or component. After a critical analysis of the results, our expert provides you with the appropriate advice. In our advice we take into account an assessment framework, which includes your wishes and requirements, the relevant legislation and other standards.
The advantages of DEKRA
expert in the area of Asset Lifecycle Management

mobile field lab for testing and measurements under any condition

expertise with critical scrutiny

the right equipment for every job

flexibility

many years of experience

complete working area (one-stop shop for all your questions)
Schedule a 1:1 session
Do you need a measurement or test to be carried out at your location? Get in touch with one of our experts. The process is simple:
1.
Request a free 1:1 session with one of our experts using the form below.
2.
Submit your unique case.
3.
Get valuable insights and advice on concrete follow-up steps.
Do you have a question? Get in touch with one of our experts