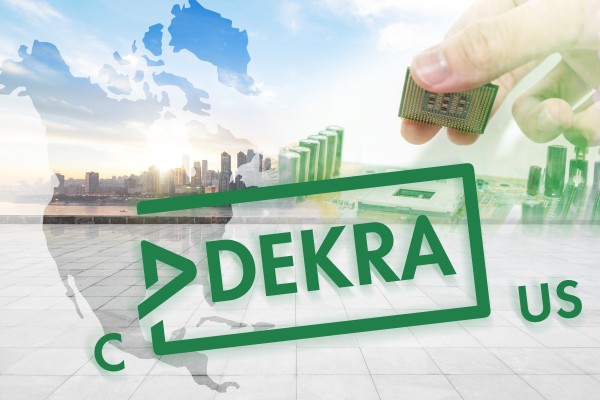 A safety mark for electrical and electronic products in Canada and the United States
Testing & Certification for the North American market
In a time where the use of electrical equipment is so present in our lives, guaranteeing safety must be a priority. For this reason, Canada and the United States determine safety standards for products connected to their electrical grids. When an electrical or electronic product is sold and used in North America, it needs to show a mark which proves its compliance with the local regulations established by the authorities. But, who is responsible for testing and certifying products for the US and Canada markets? North American countries rely on Certification Bodies (CB) whose mission is to ensure the devices comply with the required standards and regulators.
DEKRA has established its own North American Certification Scheme (NACS) and is now an accredited assessment body for both the US and Canada. DEKRA already has decades of expertise in the North American certification market via a network of accredited partners. This network is still available for current and future certification needs.
As a Nationally Recognized Testing Laboratory (NRTL) in the United States, a Certification Body in Canada and expert in certification, we help you meet the NACS standards for your electrical and electronic products.
DEKRA Certification Mark for North America
To obtain the DEKRA Certification Mark for North America, your product must pass a procedure where our experts will confirm its compliance with the regulators' standards. An important step of this routine is the Evaluation, a phase where are performed tests on the product. As our priority is to work with the highest efficiency for your products to get the certification on time, we offer you different options that reduce the duration and cost:
We accept components previously tested in other accredited laboratories according to the applicable standards.

We recognize IECEE and IECEx reports.

We offer flexible testing routes: in DEKRA's laboratories, in your own laboratory or in a third-party laboratory.

We assign a dedicated expert specialized in providing you with global support in all the fields you need.

We offer combined testing according to NACS and the IECEE CB-Scheme or IECEx by one scenario to shorten the timeline of the certification process.
Another important step of the certification process is Review & Certification. In this phase, we also offer advantages that optimize the process:
We have direct contact with regulators (OSHA and SCC), but also with state and provincial authorities of North America.

We are represented in Canadian and US Authority Meetings: the American Council for Electrical Safety (ACES) and the Canadian Advisory Council on Electrical Safety (CACES).

We possess a global network with experts available to support local service when you need it.
Initial factory inspection is required for each manufacturing location prior to the usage of DEKRA certification mark. In specific cases, it's possible to waive, as for instance when the manufacturing location or the equipment and personnel have been previously evaluated.
At DEKRA, we offer the assistance you need during the whole process to assure your products comply with the North America Certification Scheme. With the DEKRA Certification Mark for North America, your products will be ready to go to the market displaying a sign of trust and safety.
DEKRA has provided more than 3,000 product certifications supporting global access to the North American Market.
We offer an efficient certification route for tri-national standards and simplified component acceptance when previous reports following IECEE and IECEx standards are provided.
Direct contact with regulators
We keep direct contact with state and local authorities and we are represented in Canadian and US Authority Meetings.
A single expert will support you through the global certification route, maximizing convenience and efficiency in the entire process.
We are recognized by two North American organisations to certify products under our NACS scheme (North America Certification Scheme):
The Occupational Safety and Health Administration (OSHA), in the United States, who recognized DEKRA as a Nationally Recognized Testing Laboratory (NRTL).

The Standard Council of Canada (SCC), in Canada, who accredited DEKRA to be a Certification Body for the Canadian market.
We keep direct contact with US and Canadian regulators in order to support the market access and acceptance of our customers' products. We also offer you the ability to request certification for both markets at the same time.