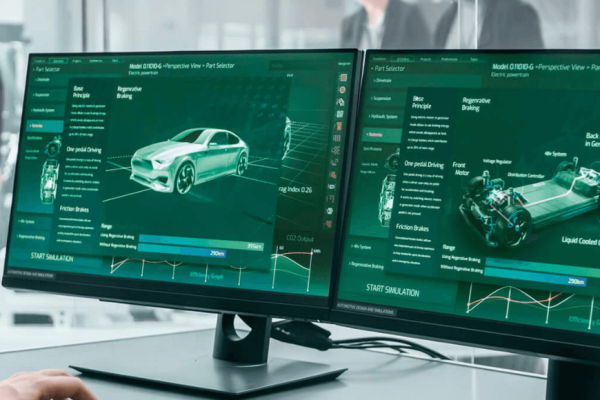 DEKRA at Power2Drive Europe
Could you use some guidance when it comes to e-mobility testing and certification?
Ensuring safety, security and sustainability in the e-mobility and energy transition
Thanks for visiting us at Power2Drive Europe
As the EV market continues to grow in Europe, interesting topics on the rise are Vehicle-to-Grid (V2G) technology and cyber security for EV charging stations. V2G technology enables EVs to exchange energy with the power grid, providing benefits for both individual drivers and businesses/utilities providers.
To ensure the safe, secure and sustainable growth of the electric vehicle (EV) industry, DEKRA provides extensive services to support the complete energy and e-mobility transition. DEKRA offers the first cybersecurity seal for the EV charging stations. We created a comprehensive test to ensure safe and secure communication between EVs, charging stations, and charge point operators. This end-to-end testing covers a wide range of EV supply equipment, including cables and plugs.
Furthermore, we conduct extensive testing, inspection and certification for end products, product components, batteries and energy storage systems. Industrial safety solutions and their Battery Energy Storage System (BESS) can be tested to ensure the safety of the cell, module, installation, or system as a whole. On top of all of this, we can help you get an extra competitive advantage with our global market access services and our hero product certification mark
DEKRA Mark
.
Vehicle to Grid integration
Vehicle to Grid (V2G) technology is a system that enables electric vehicles to exchange energy with the power grid. This allows the vehicle's stored energy to be sent back to the grid and vice versa. The system can be operated manually or automatically, and it provides benefits for both individual drivers and businesses/utilities providers. For example, drivers can access lower rates for electricity during off-peak hours, check their battery life, and access renewable energy sources more easily. V2G also enables businesses to reduce their environmental impact by accessing renewable energy sources with fewer emissions. Utilities providers benefit from having additional storage capacity to manage electrical demand during peak times.
Cybersecurity for EV chargers
DEKRA has developed the world's first cybersecurity certification program for EV charging stations to ensure a secure EV charging experience for users. EV charging stations are potential targets for cyber-attacks, which can have a significant impact on energy and transportation infrastructure, user privacy, and the charger itself. The cybersecurity certification program helps address security threats by implementing solutions such as securing access to the device, protecting access to configuration and firmware, and safeguarding against software vulnerabilities.
Why choose DEKRA for e-mobility testing?
One-stop shop for e-mobility solutions
The e-mobility value chain is about more than just the vehicle. DEKRA's testing and certification services range from charging station infrastructure to individual battery cells, and from cables to inverters. We are a true one-stop shop for your e-mobility testing needs.
Reliable partner in ISO and IEC
With a proven track record in testing and certification for electrical and mechanical safety since 1927, and a unique position in the automotive industry since 1925, DEKRA is the ideal partner for companies involved in any aspect of electric vehicles.
Worldwide e-mobility test network
The DEKRA network comprises technical laboratories and testing facilities for connected, automated and electric driving in more than 50 countries around the world. This ensures we can optimally help manufacturers and suppliers to comply with the latest e-mobility requirements in order to gain access to international markets.
Book an online session with a DEKRA expert
Could you use some guidance when it comes to e-mobility testing and certification? Book a free online session with our expert. Discuss your business case and get the answers to all your questions. At the end of this session, you know exactly what the best next steps are to realize your ideas and reach your goals.
Bonus: get access to exclusive e-mobility video content and learn more about:
New developments in e-mobility

Interoperability of EV charging stations

End-to-end safety testing of EVSE

E-mobility safety testing

Our state-of-the-art e-mobility testing facilities