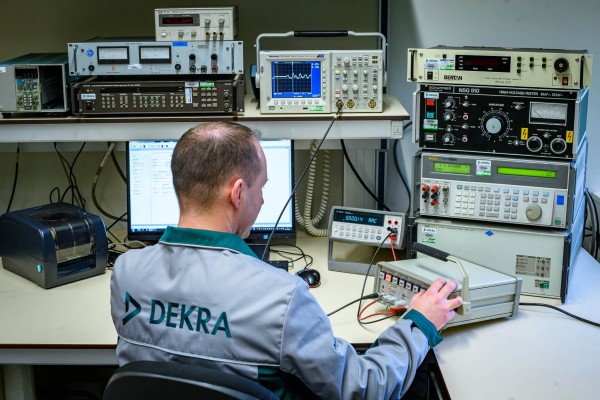 We measure your geometric, physical and electrical measurement equipment
Calibration
Certification for your measurement equipment
It is important to always work using information gained from reliable measurements. How else would you know you are measuring what you want to measure? A measurement device can be tested through calibration. DEKRA can take care of this calibration for you. We measure your measurement equipment, so you know for certain whether the measurements you have carried out are correct and that your measurement equipment is functioning properly. 
Calibration involves comparing the measured values of a measurement device with the actual value - measured using a reference measurement device - in order to determine any deviations. You then know whether your measurement device is functioning correctly and whether you can use the data obtained. Calibration is an important part of the management of measurement equipment. This shows you precisely whether the results from your measurement devices are correct since the last calibration. Should there be any deviations, DEKRA can repair and adjust the measurement device. Lastly, DEKRA can provide
certification
for your measuring equipment.
As an independent knowledge centre, the DEKRA team knows everything about calibration. DEKRA is accredited in accordance with ISO 17025 and is ISO 9001-certified. We ensure the optimal availability and reliability of your measurement equipment. We provide a one-stop shop with the calibration of geometric, physical and electronic measurement devices, including repairs, replacement or new purchases. In short, we provide a total management concept. 
Calibration by DEKRA
DEKRA can carry out the following calibration services:
calibration of specific rail equipment such as ATB code relays or field strength meters

calibration of multimeters, current clamps, insulation meters, scopes or temperature gauges

calibration of pressure sensors, force transducers, (slide) gauges or micrometers

repair and adjustment of measurement devices
The advantages of DEKRA
experts in asset lifecycle management

optimized calibration frequency

customized calibration  

calibration at your our own location

efficient data processing

transparency via a customer portal

one-stop shop with calibrations of geometric, physical and electronic measurement devices
Schedule a 1:1 session
Want to be sure your measurements taken are correct and your measuring equipment is still functioning properly through calibration? Get in touch with one of our experts. The process is simple:
1.
Request a free 1:1 session with one of our experts using the form below.
2.
Submit your unique case.
3.
Get valuable insights and advice on concrete follow-up steps.
Do you have a question? Get in touch with one of our experts